Microsoft Teams Voice
Deploy Voice within Teams to enjoy a rich calling experience – £12 per user per month includes a domestic calling plan with 1,200 minutes per user, per month within UK.
You probably use Microsoft 365 for internal collaboration, sharing ideas, chats, and meetings but a standard PABX or VoIP for voice calls. Why not unify your office communications too with Teams? Teams Voice is an add-on for Microsoft Office 365 and can transform how staff and customers connect, communicate, and collaborate. Best of all, it allows you to retain and use your existing numbers. You can extend Teams calling to mobiles and landlines using the Microsoft Phone System.
Teams VoIP works like your regular BT phone. You can use it on any device running Teams and from anywhere as long as you have internet access. Remote working and communication has never been this simple. Consolidate your business call expenses with a single call plan and optimise usage of your Microsoft license.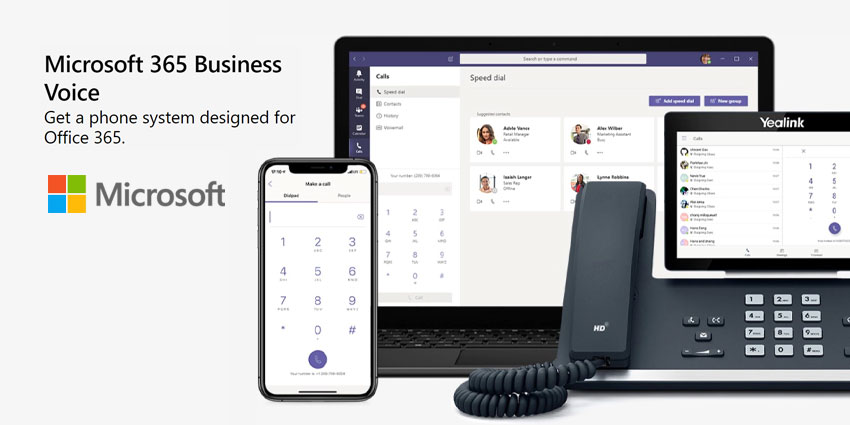 Benefits of Microsoft Teams Voice for Your Business
Drop your onsite PBX hardware in favor of Teams Voice, a powerful cloud-based VoIP solution for your employees. It lets you make and receive calls on the Public Switched Telephone Network (PSTN) via Microsoft Teams.
Simple calling
Use Microsoft Teams like a softphone from your smartphone, tablet, laptop, or your PC
Improved functionlity
Combine your phone system with Teams to enhance communications and collaboration experience.
Lower costs
Teams Voice helps you avoid the high costs associated with managing disparate business telephony systems.
Port existing numbers
Experience the flexibility of a typical VoIP provider. You can port existing numbers, mix and match, or request new ones.
Deploy in the cloud
Microsoft Voice Teams is 100% cloud-based and deployment is fast with Microsoft being your sole provider.
Simplified administration
Administer your Calling Plans and manage users remotely while providing support in real-time.
Make Voice Part of Your Teams
VoIP phone calls are the future of modern communications, and Teams Voice is the solution we recommend at ICT Partners. Our VoIP experts can help you with various aspects of Microsoft Teams Voice Calls from installation through training ensuring long-term success and effective workplace communication and collaboration.
From pre-sales to licensing through migration and technical support, we'll make sure your small business leverages Teams and Business Voice to deliver great collaborative experiences and seamless customer support. ICT Partners can help you choose a suitable Teams subscription for your business with default voice and deploy it for users. You'll enjoy global consistency, reduce costs, and enhance user experience.
Do you want to replace your traditional business phone system with the Microsoft Teams Voice? ICT Partners is offering a complimentary Teams Voice value assessment. Take advantage of our dedicated onboarding, deployment, and account management service to transform your business.
Call initiating
Call answering
Call retrieving
Call holding
Simultaneous ringing
Call forwarding
Emergency calling
Voicemail
Autoattendants
Call routing
What is required to enable Voice for Microsoft® Teams?
All you need to use Teams Voice is a Microsoft Office subscription with Microsoft Business Basic, Business Standard, Business Premium, E3 or A3; Office 365 F3, E1, E3, A1, or A3 license with a phone system add-on. You do need a telephone number to make or receive calls. You can also purchase Microsoft Teams compatible handsets for your voice communication.
Is Teams Voice Suitable for my business?
Microsoft Teams Voice is suitable for small and large organisations across different industries. You can expand your calling capability by acquitting add-on solutions like call centre functionality, compliant call recording or more.
Is Teams Voice Secure and Reliable?
Microsoft Teams Voice is a fantastic business phone system. Hosted in the Microsoft 365 cloud platform, Teams Voice comes with a 99.9% uptime guarantee, load-balancing and built-in redundancy. Your subscription comes with all the essential security features and accreditations you will find with any Office 365 offering.
Take the next step
Discover how ICT Partners can help your organisation make the most of Microsoft's cloud calling. Contact us for a free no-obligation and 30-day trial via Microsoft Teams.